A glowy skin is often on the top of our list when going to special occasions or vacationing. It can be tempting to bake in the sun for hours or use tanning beds, when trying to get a fast tan. While both these options can tan quickly, they can just as easily give you a sunburn or lead to long term damage like skin cancer and aging skin.
Instead, self tanners are your best bet for a quick and beautiful tan that doesn't do damage to your skin. Use our tips below to learn how to get a tan quickly and safely so you can show off your luminous, glowing skin year-round.
Self Tanners: The Best Way to Get a Safe Tan Quickly All Year-Round
Self tanning products, also called sunless tanners, are a practical, effective solution for getting a tanned look without exposing your skin to harmful ultraviolet (UV) rays. The results of sunless tanners tend to last 7-10 days depending on how you care for your tan. These products are commonly available as mousses, sprays, and towelettes that you can apply directly to your skin. And we'd say they are the easiest and safest way to get a tan quickly!
Popular self-tanning options are split into two main categories:
Instant Tanners
Instant tanners contain dyes that show up instantly. As the name spoils; you will get an instant tan.
Gradual Tanners
How does gradual tanners work? Dihydroxyacetone (or DHA (you can read more about it here), is a color additive and the active ingredient in most sunless tanning products available today. When applied to clean, dry skin, it reacts with dead cells on the skin's surface to temporarily simulate a tan. Boë Beauté only has gradual tanning products to provide you with a natural tan created by your skin.
Tips for How to Apply Gradual Self Tanners
Prep your skin for self tanning by exfoliating your skin. If you want to remove body hair by shaving or waxing, do it before you apply the product. If you do all of the aforementioned before applying the product, it will fade faster.
Make sure you moisturize common dry spots like elbows, knees, and ankles with a moisturizer to avoid dry patches. Dry skin can absorb tanning lotion and lead to an uneven look.
No matter how eager you are to show off your glowing skin, let the self tanning product dry completely. Boë self tan products are based on quick drying formulas, to suit peoples fast paced lives – and they do not transfer.
In the days after you apply your self tanner for the first time, then reapply, adjust and fine tune your applying techniques and gradually build up your tan to your favourite tanning level. Afterwards, maintain it as part of your grooming routines. Your tanning routines with Boë will take just about the same as it takes you to make a cup of coffee.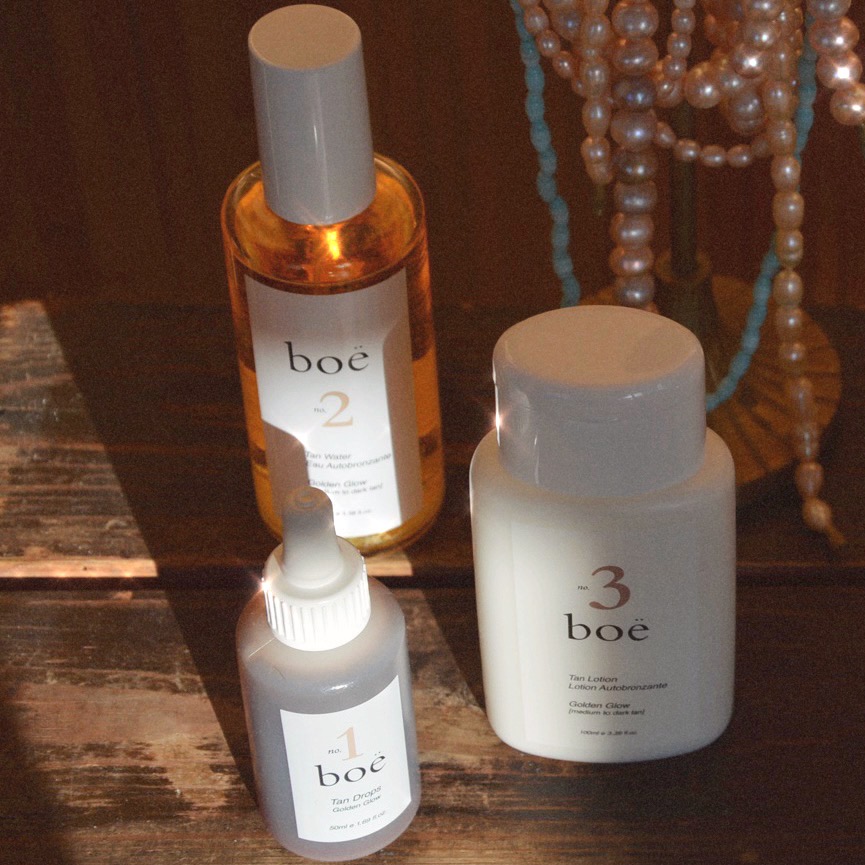 The Everything Set consists of 1x No.1 Tan Drops, 1x No.2 Tan Water and 1x No.3 Tan Lotion. It is a bestselling bundle that provides you with our three different forms of self tan.
If you are interested in learning more about sunless tanners, please check out our self-tanning tips to help you achieve a perfect, sunless glow.
How Outdoor Tanning Works
Melanocytes are activated by the sun's UVA rays, every time you are exposing your skin to sunlight. Melanocytes are skin cells that produce melanin, a brown pigment responsible for tanning the skin. So basically, a natural tan is your skin defending itself from the sun.
Sunshine helps your skin produce vitamin D, which is important for healthy bones and teeth. But, too much sun damages your skin and can lead to wrinkles, sagging skin, and skin cancer. Due to these negative side effects, it is key to learn how to tan safely to avoid long term damage. Anytime your skin is exposed to sunlight, it is essential to protect it with a broad-spectrum sunscreen with at least SPF 30.
Sun protection should be applied at least 30 minutes before sun exposure to let it bind to your skin. Broad-spectrum sunscreens can protect your skin from the harmful effects of both UVA and UVB rays. For maximum protection, re-apply every 1-2 hours, after swimming, or excessive sweating. If you are outdoors for any length of time, it s also a good idea to wear a hat, sunglasses and protective clothing.
Read more about our tips, products and Boë in general on our tan talk-page.
YOU MIGHT BE INTERESTED IN…