Have you had problems with using a spray tan and experiencing streaks at the neck? And now you are wondering how to apply self tan without getting streaks at the neck?
How to self tan the face and neck is slightly different than from the rest of the body. You move your head around often. Up and down, left to right, and while you do this, your neck moves and creases. This usually isn't a problem, but when your spray tan is drying, it can lead to streaks in the creases. These movements and creases can then give you a zebra-like appearance.
– but that'll never happen with the pure quick drying natural looking products from Boë.
Spray tan neck creases can be caused by the excess movement of the neck as the product dries. It can also happen due to wrinkles, or sweating after a spray tan. This can cause streaks and patches, which is definitely not what you want to be showing off. Here, Boë presents the opposite alternative. We delete your concerns about how to put self tanner on your face and neck – because you will not experience the neck streaking problem.
Nobody would really like to walk around with some odd-looking spray tan neck creases… So what is the best way to fix them, once the luck is out?
The answer is simple
– Avoid it by using Boë.
If neck streaks has happened, then neck creases can be fixed. So if you find some strange patches and streaks developing on your neck after your self/spray tan session, try one of the below hacks. They will get your neck looking smooth and even, matching the rest of your toned skin.
Here is how to apply tan to face and neck – and in case; to repair.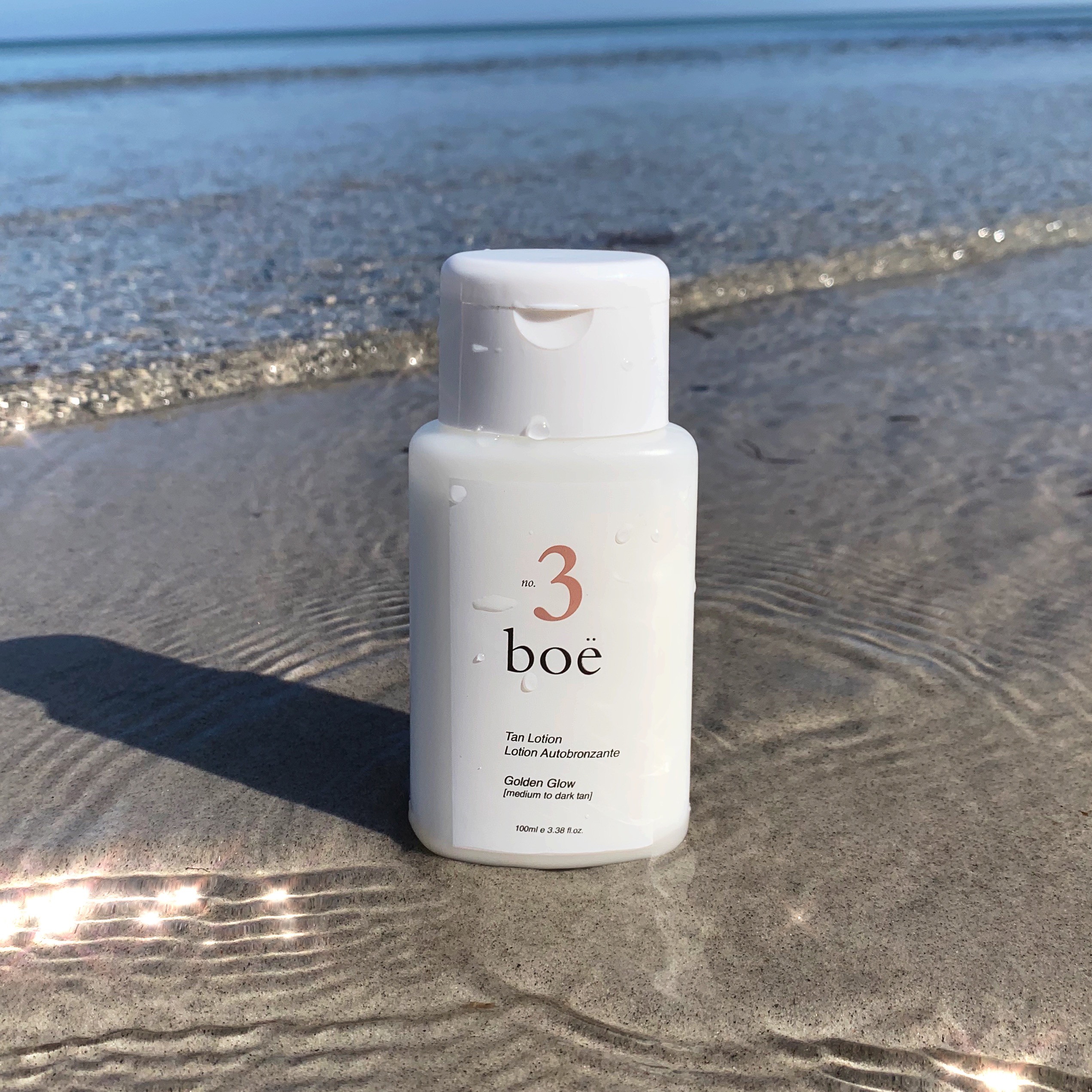 No.3 Tan Lotion from Boë. An easy to use hydrating lotion that gives you a gorgeous golden glow and dries quickly
Removing The Streaks
Before you can fix and even out the streaks and creases on your neck, you will have to remove the darker patches.
There's a few ways to do this at home, which will help to even out the color. This has to be done, before you can try again with another tanning product.
If you want to obtain a natural and gorgeous looking tan, then you cannot place a new tan over the streaky patchy one. By doing so, you will only highlight the darker areas, and you'll be stuck with an even harder tan to remove.
The easiest way is to wash it away. Use a face cloth to wipe away the patchy tan. Baby oil can soften the tanned skin cells, and when you wipe them away with a face cloth, the tan will wipe away as well.
Patching Up Your Neck Tan
Once you have successfully removed as many of the streaks and patches from your neck as possible, you will need to patch it up to appear toned and even with the rest of your skin.
You can thus try to touch up your neck with a Boë self-tanning product. Gently massage the self-tanning lotion onto your neck in small, circular motions. And remember to blend it in, up your chin and slightly down near your chest as well.
Blending the self-tanner will help the tan look more natural and even.
And remember; that streaks in the neck only happens when using spray tan – and never with a high quality self tan product from Boë :)
Read more about our tips, products and Boë in general on our tan talk-page.
YOU MIGHT BE INTERESTED IN…