These basic sunless tanning lotion tips will help you apply a lotion self tanner, so you can get even coverage and longer-lasting results. We will do our best to try to answer the questions you might have about how to apply self tanning lotion.
Follow these steps about how to put on self tanning lotion
Exfoliate
Use a washcloth to exfoliate the skin prior to applying a self tanner. Using an exfoliating product will help remove dead skin cells. Spend a little more time exfoliating where your skin is thickest, i.e., on the elbows, knees and ankles.

Dry your skin
Drying your skin before you apply a self tanner helps, is crucial for the result of your applied self tanner. If you're apply the self tanning lotion while you're still wet, it won't adhere to your skin. This means that the tan thus will become uneven.

Apply in sections
Apply the self tanner in sections. I.e., start with your arms, then legs, followed by the torso. Massage the self tanner into your skin in a circular motion.

Wash your hands after each section
Nobody wants orange-colored palms… So; wash, wash, wash with soap and water. Wash your hands between every section, and you'll avoid the annoying orange-colored palms.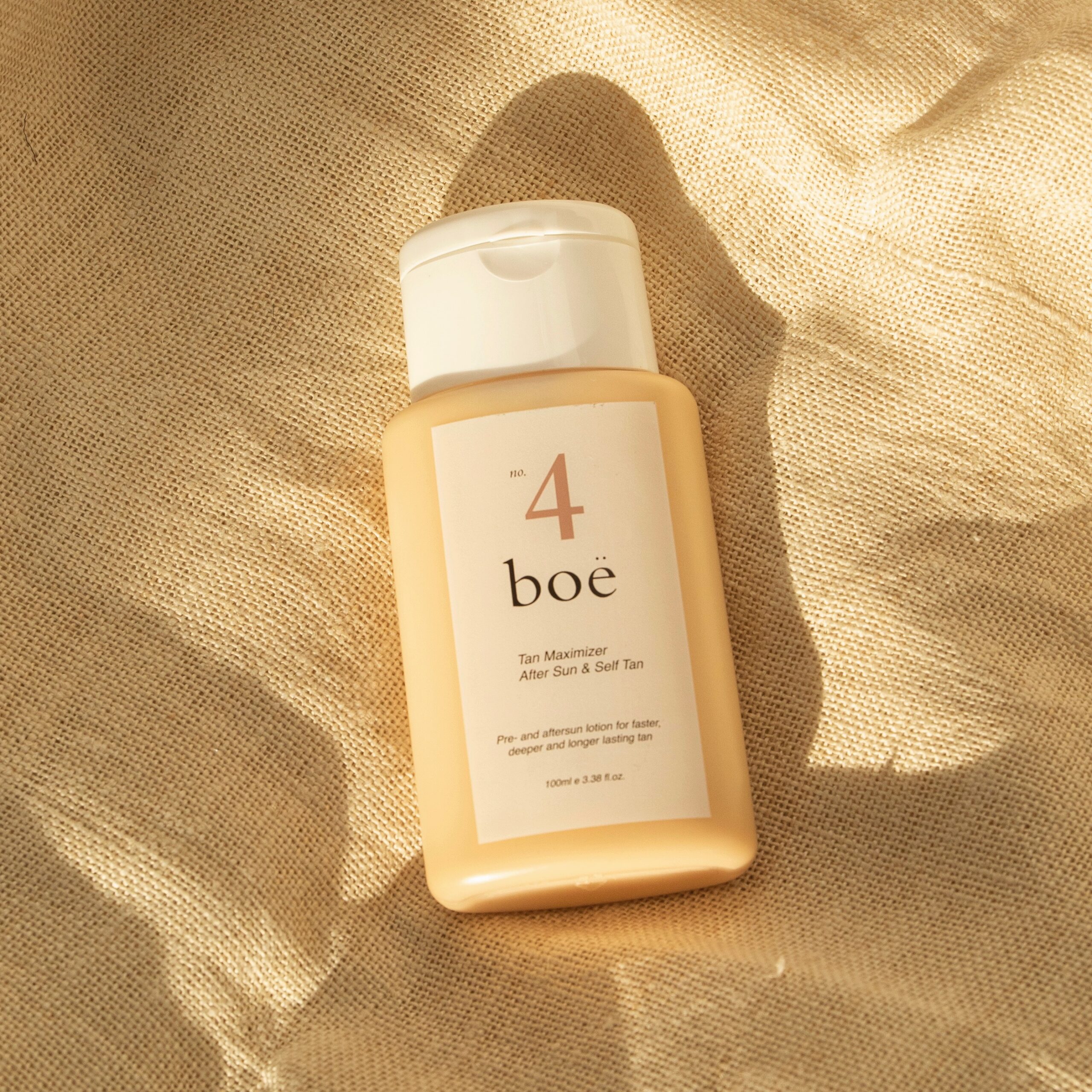 Boë's one week vacation set contains 1x No.1 Tan Drops and 2x No.4 Tan Maximizer. It is amongst our customer favourite bundles, as it is perfect during the summer and your sunny vacations
Blend at your wrists and ankles
For a natural look, you'll need to lightly extend the tanner from your wrists to your hands and from your ankles to your feet.

Dilute over your joints
Dilute the self-tanner on the knees, ankles and elbows. Because these areas tend to absorb more of the self tan, than the rest of the skin. To dilute, lightly rub with a damp towel or apply a thin layer of lotion on top of the self tanner.

Give your skin time to dry
After application, wait until your skin feels like it has absorbed the product, and feels dry, before getting dressed. We always recommend to try to avoid sweating the next few hours after application, but it is not a necessity. And to wait for as long as possible before getting dressed. But with Boë's products you don't have to worry about getting a patchy tan. Our products are quick drying and for people on the run.

Apply sunscreen every day
You still need to protect your skin with sunscreen. Be sure that your sunscreen offers all of the following:

SPF 30 or higher
Broad-spectrum protection (UVA/UVB protection)
Water resistance
Read more about our tips, products and Boë in general on our tan talk-page.
YOU MIGHT BE INTERESTED IN…