Tans tend to last 7 to 10 days due to skin cell turnover.
Whether you spend some time in the sun, regularly apply a self tanner or use solarium, you might have a burning question on your mind: 'how long does a tan really last?'
Glow from self tanners can expect to last between 7-10 days due to the natural turnover of skin cells. If you get a tan outside, i.e. the sun or solariums, you can expect your tan to fade in a similar amount of time. When your skin is exposed to the sun, it produces a pigment called melanin, which darkens the skin to help protect it from harmful ultraviolet rays.
This reaction causes the skin to darken, but how long it lasts largely depends on your skin type. Those with medium or deep skin will have a longer-lasting tan than those with light or fair skin. Luckily for self tanning, applying a daily sunless tanner can help you maintain an even tan indefinitely. And this article will help you on how to make your tan last longer.
How to Make Your Tan Last Longer
1. Exfoliate and Moisturize Before Applying Self Tanner
If you are looking for how to make your color last, then it is important to exfoliate your skin to remove any dead skin cells. Exfoliation helps smooth your skin and create an even surface for self tanner. When you are ready to give your skin a beautiful, natural-looking glow, follow our guide on how to apply self tan.
2. Avoid Bathing and Swimming in Hot Water
Though you may enjoy hot baths, showers, and hot tubs, your sunless tanner will not. Hot water causes your skin to dry out and shed—taking your carefully applied sunless tanner with it. For best results—and to avoid unnecessary shedding and flaking—avoid prolonged exposure to hot water.
3. Drink Water to Keep Your Skin Hydrated From the Inside Out
Drink lots of water to help keep your skin healthy and moisturized. Water is also essential to flush out toxins, improve circulation, and help your skin glow.
4. Moisturize Your Skin to Prevent Shedding
Moisturized skin is happy skin, and happy skin holds your sunless tan longer. Apply a nourishing moisturizer daily to keep your skin hydrated and looking healthy. Avoid moisturizing with a concentrated oil like coconut oil or oil-based moisturizers and lotions. Oil-based products can make your self-tanner go on unevenly and break down the tanner after you apply it to your skin.
Our No.3 Tan Lotion can be used as a moisturizer. Additionally can our No.1 Tan Drops be used in conjunction with your favourite moisturizer or lotion and voilà; you have a golden tan and moisturized skin.
5. Avoid Certain Skincare Products Like Exfoliants and Salicylic Acid
Take a few minutes to review the products you use regularly. You may not realize it, but some of them might be removing your tan prematurely. Help your tan last longer by avoiding body scrubs, peels, and certain face masks. Also, watch out for acne treatments and ingrown hair products containing salicylic acid. These products can cause your skin cells to shed more quickly and may take your tan away with it.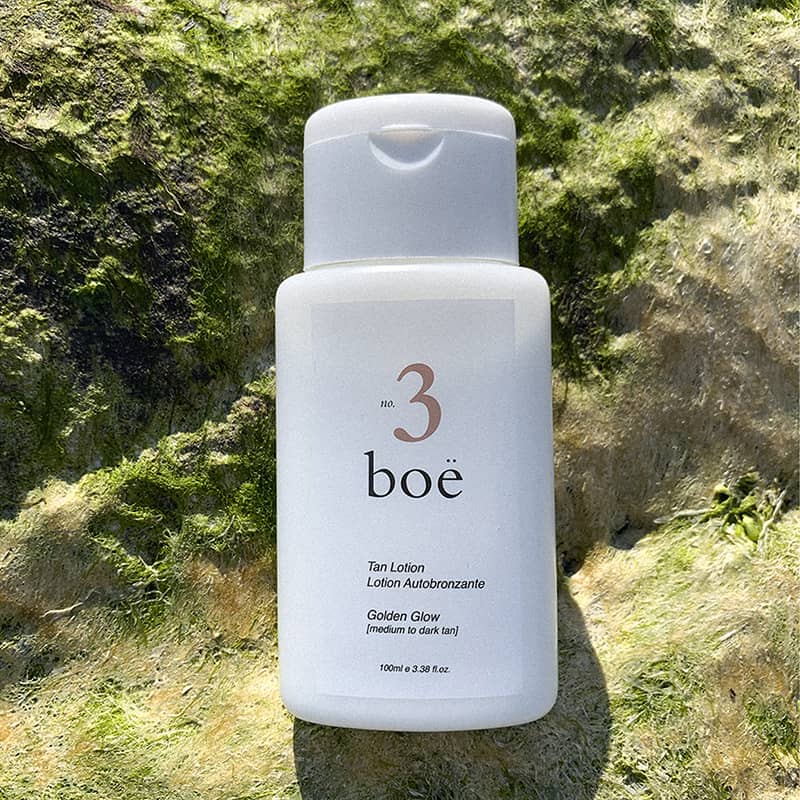 No.3 Tan Lotion is a lotion and self tanner in one that smoothens your skin and is applicable for both face and body
8. Extend an Outdoor Tan With Self Tanner
How to make your sun tan last longer? Use self tan. A self-tanner can safely extend your tan—and help you avoid more damaging sun exposure.
9. Wear Sunscreen Daily
While self tanners do not increase or extend the amount of melanin in your skin, they do help you maintain the appearance of a tan. If you are using a sunless tanner, it is also important to wear a daily sunscreen with a minimum of SPF 30 to avoid burning. Sunburned skin is damaged skin that often leads to peeling—which means your color goes away even faster.
Key Takeaways
Exfoliate your skin to remove any dead skin cells before applying your sunless tanner.
Keep your skin moisturized and hydrated by regularly applying body moisturizer.
Avoid exposure to hot water, as it can cause your tan to come off at a faster rate.
Avoid body scrubs, peels, face masks, and products that contain salicylic acid or exfoliants.
Keep your skin healthy with a daily moisturizer, sunless tanner, and sunscreen with at least SPF 30.
For even more tips for helping you get a gorgeous glow all year long, read our self tanning tips!
Read more about our tips, products and Boë in general on our tan talk-page.
YOU MIGHT BE INTERESTED IN…