We all know that the sun's UV rays and tanning beds can be bad for us but who does not love a little summer glow? Forget baking under artificial lights or lying in the sun day in and day out. Today's savvy beauties are using fake tan to protect their skin and get that 'fresh-from-the-beach-year-round-summer-glow'. Though, stains from self tanners is a problem many either have tried on their own or heard about. This builds the question: How to keep self tan out of your bedlinen and clothing?
To be fair, who hasn't spotted some self tan stains on their clothes og linen at one point through their self tan career?

Then you might ask: Does Boë's self tanners stain clothes and sheets?
No, with Boë, that is not a problem. But we will stille provide you with the best solutions on how to keep self tan out of your bedlinen and clothing, to avoid the self tan stains and if your luck is out, how to remove them.
Perfecting Your Summer Glow
Self tanning is a skill that can take time to perfect – or you can go fast.
Good prepping can include to moisturise dry areas such as hands, knees, elbows and feet to prevent the fake tan in clinging to dry body areas. Lightly moisturising a dry face and spots will also help you achieve a more even finish.
For the best results, start with a pre-tan prep. This will help you achieve the most natural tan. We suggest you to exfoliate 24 hours beforehand and avoid facials and massages 48 hours before you do your routine. If you have a little old tan left – mostly if it is started to get patchy – use wipes to remove it. They are though not always visible to the naked eye.
If you want to go fast with the high quality self tan products from Boë, it can be a good idea to go for a gradual self-tan lotion. In that way you can monitor the level of color and build your tan up over time (read How To Apply Self Tan – The 3 Do's / How To Apply Self Tan – The 3 Don'ts).
Preparing Your Skin For Self Tan
Every great looking fake tan starts with a pre-tan prep. By creating the perfect base for your tan, you will increase the chance of avoiding the tell-tale signs of tanning; such as blotchy legs and streaky arms. By creating the perfect circumstances for your skin, you will give yourself the best hope for how you're to keep self tan off your bedlinen and clothing. Follow these Do's and Don'ts from Boë, to achieve the best natural tan results.
DO
Exfoliate and wax 24 hours before you tan
Use wipes to remove old tan – not visible to the naked eye
Moisturise dry areas such as hands, knees, elbows and feet
Lightly moisturise a dry face and spots
Rub an ice cube over your face to seal your pores, then pat dry with a tissue
DON'T
Have a massage or facial 48 hours before you tan
Making your tan last for longer
The best tanning products make it easy to get a convincing faux glow. To glow for longer, follow these after tan care-tips:
Moisturise daily to prolong your tan and extend its life
Exfoliate after 3/4 days to help your tan fade more evenly
(Use an electric shaver when shaving your legs after tanning. This will remove the top layer of your hair and not your self tan.)
Once you have achieved a sun-sational shade you will want it to last. How quickly your tan fades will largely depend on the type and quality of your tanning product, and how well you care for your skin. With the high quality products from Boë, there is no such thing as how quickly your tan fades – because it is a natural process and it does not differ, from what you normally experience when you are tanned by the sun. Because the Boë products are allergen and fragrance free, they are made for daily usage and they are aimed to make your skin produce your natural tan, why you can keep your favourite tan level easy as pie – with daily or bi-daily tanning routines.
Of course your lifestyle can also contribute to how quickly your tan fades. Swimming, lounging in a sauna or steam room and long, frequent (hot) baths or showers can make the glow go quicker – but this is all natural.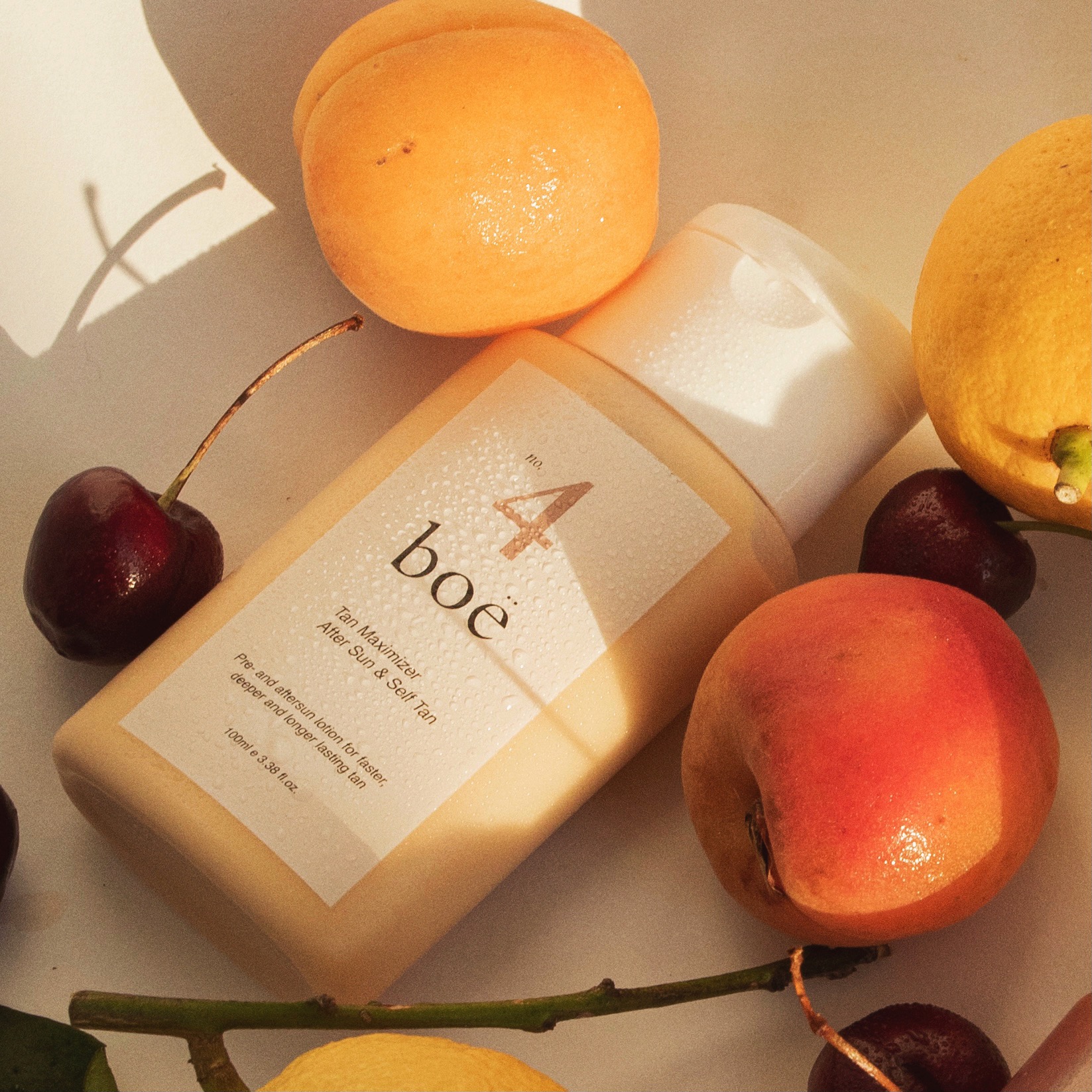 What If You Get Self Tan On Your Bedlinen Or Furniture?
When tanning in the bathroom avoid porous surfaces such as wooden floors and tiles with grout, and move the bath matt away. Wipe off any tan that sneaks onto surfaces and tackle tan stains on grout with a damp cloth or a damp piece of paper. It is nothing special and very easy.
How to remove self tan stains
Bedlinen
Applying the tan earlier in the day (morning routine) will give the tan time to absorb and prevent it discolouring your linen. The Boë colourless self-tanners also prevent staining on clothing and bedding. Over time your linen needs (of course) to be washed – and when using Boë products – all marks from self tan – will be washed off and white bedlinen is as white as ever before.
Clothing
Normally you should not have any problems with the colourless self-tanners from Boë – but if the tan does stain, we recommend:
Wash your clothes in as hot a wash as the care label allows. That should be enough. Eventually you can add a little dishwashing liquid to the stain prior to the washing
For silk and wool, rub the stain with a warm solution of washing-up liquid, then wash your clothes as per the washing instructions.
Read more about our tips, products and Boë in general on our tan talk-page.
YOU MIGHT BE INTERESTED IN…