Learn How to Get a Gorgeous Glow Without Sacrificing the Health of Your Skin.
Intense tanning was back in the days a perfectly acceptable way to use your vacations. Today, you are probably a bit more concerned about how the UV rays will affect your skin in a long-term and wondering "how can I tan without getting the associated sun damage? – how to tan safely?".
Although a tan appears to brighten your skin with a healthy-looking glow, it is actually a sign that UV rays have penetrated and damaged your skin. Even freckles indicate that you have spent too much time soaking up the sun's rays. Whenever you are outdoors, even just for a few minutes and it is cloudy, your skin should be protected. Over time, minor sunburns add up to sun spots, fine lines, and wrinkles, not to mention a significantly higher risk for skin cancer.
If you are wondering how to tan in a healthy way, you have come to the right place. This guide will help you get the appearance of a glowing tan without damaging your skin.
Self Tanning: The Best Way to Get a Tan Without the Sun
With self tanners, you can look like you spent the summer at Côte d'Azur without exposing your skin to the harmful, cancer-causing UV rays. Billie Jarvad from Boë Beauté says that, "Sunless tanners from Boë contain the color enhancing agent, dihydroxyacetone (DHA). Once applied, DHA undergoes a reaction with the top surface of your skin to produce darker, more tanned looking skin. Results will vary depending on the type of product used and the individual's skin tone. But this way, is how to tan safely"
Gradual Tanning is The New
In the past, some sunless tanning products have gotten a bad reputation for turning the skin into an unfortunate shade of orange. Today, many modern formulas create a natural effect that slowly builds to your desired shade. It is a no-fuss way to get your most flattering tan ever, minus the sun damage and premature aging.
Billie Jarvad explains that "Gradual tanners, such as the Boë Beauté self tanners subtly build color over consecutive uses. The user can control how deep their color builds. When using the self tanners from Boë, some will see the first results within 2 hours, depending on choice of product and skin type. Some will have to wait a little longer before they see the results. After consistent daily or bi-daily use, the color results plateau after 7 days of use – but more glow depth can be obtained by adding more. You can continue to risk free use all Boë self tanners every day to maintain your tan – because they are both allergen and fragrance free."
"Sunless tanners, such as Boë Beauté's self tanners, are made for creating a natural tan – because the glow you get is created by your skin. Many sunless tanners contain long-lasting dyes removed only by washing off. The dyes will give you a tan instantly upon application while the DHA works to build the tan over the course of a few hours. Boë only work with gradual DHA based tanning products, where the glow you get is natural and your own."

Billie Jarvad
If you are new to sunless tanners, check out our guide on how to apply self tanners. We have also made our own exclusive self-tanning tips for a smooth, even, mess-free application.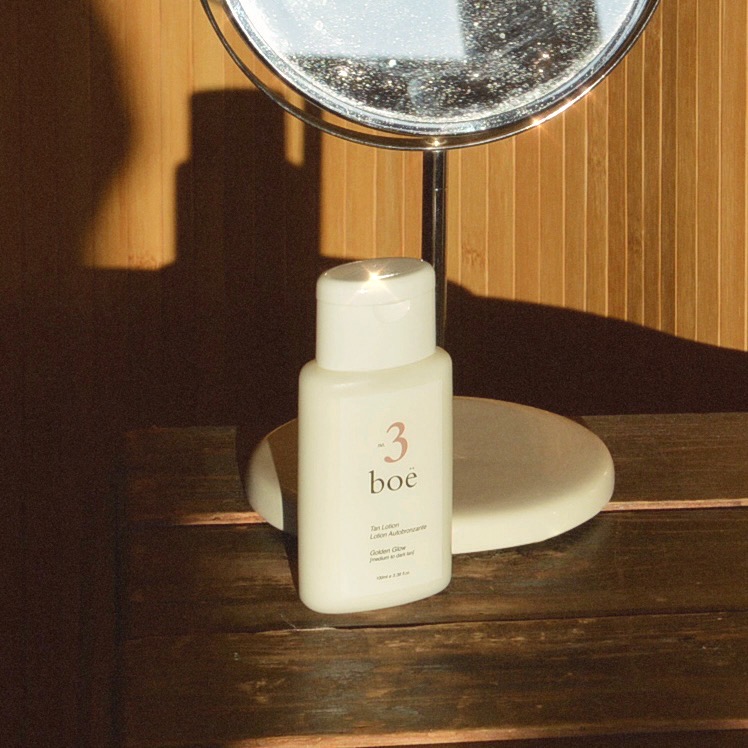 No.3 Tan Lotion – body lotion and self tan in one! Gives you a golden glow, provides your skin with nourishing ingredients and softens it, while still drying quickly.
Professional Spray Tans
Like many self-tanning products, formulas used in salon-based spray tanning services contain dihydroxyacetone (DHA), one of the most common ingredients in sunless tanners. DHA is safe to use and is the only self tanning ingredient approved by the FDA. However, because DHA should not be inhaled, it is important to shield your eyes, nose, and mouth when having a spray tan at a salon.
Aerosol sprays for home use are also safe, but try to hold your breath during application to avoid inhaling the product. Keep your floor clean by standing on a towel as you spray yourself from head to toe. Better yet, skip the mess by putting on spray tan outdoors. Billie Jarvad cautions that "If you are using a sunless tanning product at home, follow the directions on the label carefully and do not get the product in your eyes, nose, or mouth. If you are going to a spray tanning booth, ask how your eyes, lips, nose, and ears will be protected. Options for protecting yourself while applying or having a sunless tanning spray applied include wearing goggles, nose plugs, or a nose filter and lip balm".
Sometimes, regardless of your best efforts, spray tans just do not create the look you intended. If this has happened to you, check out our guide to fixing a self-tanning disaster.
Best Bets on How To Tan Safely in The Sun: Tips To Protect Your Skin
You have probably asked yourself: "How can you tan safely?" Because even when you are not seeking a tan with active sun exposure, UV rays can still damage the skin if you are not protected. Whenever you spend time outdoors—even if the sun is nowhere in sight.
Follow these tips to keep your skin safe and ward off dark spots, fine lines, and wrinkles.
Know your skin type. The Fitzpatrick Scale provides guidance on the best type of sunscreen for your skin based on your complexion.
Shop smart for sun protection. Look for a broad-spectrum sunscreen that blocks both UVA rays, which cause the deep photoaging that leads to a rough complexion, and UVB rays, which burn the skin and raise the risk for cancer.
Wear sunscreen daily. The easiest way on how to tan your face safely, is with sunscreen. Regardless of where you live, sunscreen is a must. Choose a formula of at least SPF 15 and apply sunscreen at least 15 minutes before going outside. Most people do not use enough sunscreen to provide full coverage. According to the American Academy of Dermatology, about 1 ounce is sufficient for most people. And you will still get a tan, even if you are wearing sunscreen.
Avoid the sun between 10 a.m. and 2 p.m., when its rays are the strongest. If you have to be outside during these times, seek shade as much as possible.
Never apply baby oil or coconut oil to amplify your tan. You are more likely to end up with a burn, which can cause unsightly peeling and serious long-term sun damage.
Take advantage of sun-blocking accessories. Your favorite summer trends double as protective shields when you are outdoors. Think a lightweight, flowing kimono over your swimsuit, a classic wide-brimmed hat for old Hollywood glamour, and aviator sunnies with UV lenses.
Reapply sunscreen! Yes, we put sunscreen on the list twice. Reapply your sunscreen every two to three hours, if you are spending time in the sun. You should apply even more often if you are swimming or sweating, even if you use a water-resistant formula.
Nourish your skin after a day outdoors. Spending time in the sun can dry out your complexion. Apply the revolutionary after-sun Tan Maximizer No.4 from Boë that is a after-sun + self tanner in one.
Read more about our tips, products and Boë in general on our tan talk-page.
YOU MIGHT BE INTERESTED IN…