The Skin Smoothie: Glow Up is a favourite at the Boë office. We love to feel like we are glowing. Glowing in how our skin looks and we feel mentally. And we believe one is a result of the other. If you feel good with yourself from within, it will reflect on your outside. We believe Skin Smoothies to be a manageable kick in the direction of feeling good and glowy. Even when you do not feel like you have the sufficient mental capacity.
What Does It Do For Me?
The Glow Up Skin Smoothie tastes like a bit of everything. That is to say, the sweetness from strawberries, healthy taste from carrots, tropical from the mangoes and fresh from the oranges.
You can almost feel the fruits instantly giving you glowing rays from your cheeks.
In the following we will give you a summary of a couple of the ingredients and some of their benefits.
Coconut Water:
Firstly, coconut water is rich on antioxidants. Antioxidants can help your body to fight stress-related diseases, i.e., damages on your liver, increased blood pressure, insulin levels. Coconut water can also improve your blood sugar. Moreover, it may benefit your heart and kidney health.
Mangoes:
Mangoes contain antioxidants such as, among others, quercetin, fisetin, isoquercitrin. These help to protect your body against breast cancer, colon cancer, prostate cancer and leukemia. Mangoes are rich on Vitamin C, fibres and pectin which helps you to keep your cholesterol level low. Finally, mangoes helps to cleanse your skin, from inside and out. They treat your pores and grant you with a glow, which results in a lovely skin.
Carrots:
Carrots are known for being healthy. The following is just a few of their talents. Firstly, they are rich on lutein, lycopene and Vitamin A. The aforementioned are three elements that helps you maintain a good eyesight. Secondly, carrots are, like peaches, high on fibres. Fibrous food gives you a feeling of being full and aids your digestion. Thirdly, they contain beta carotene – and lutein and lycopene – which helps and promotes healthy skin, nails, hair and gives you a radiant glow.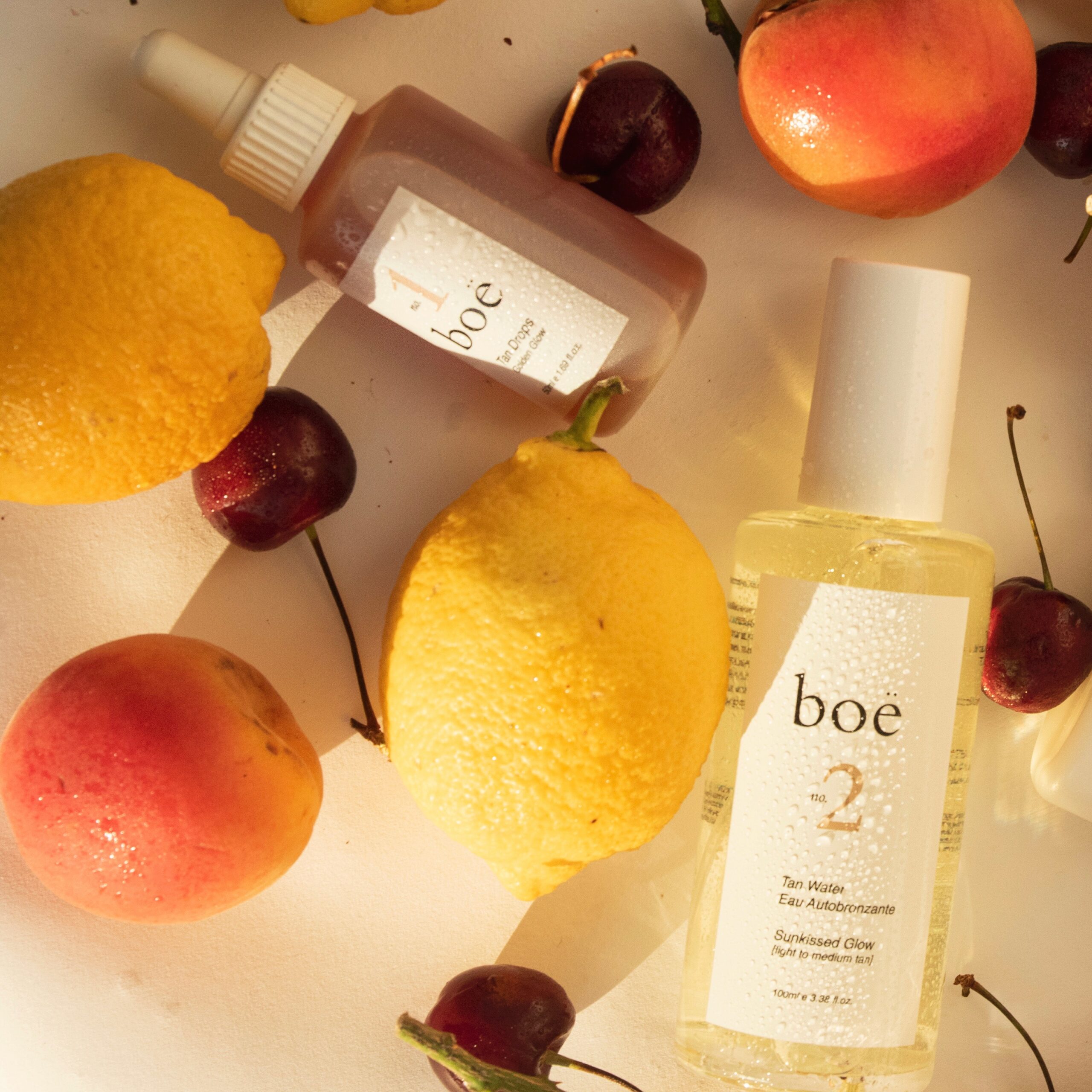 How Should I Consume?
Skin Smoothie: Glow Up contains several fruits that are working with your skin and granting you a glow from within, which you can complete with an application of one the Boë-products to get the full glow up-feeling.
The following recipe is counted as two big smoothies. You can enjoy them as drinks or as smoothie bowls, where you are free to add your favourite toppings.
You can choose to use frozen fruits and vegetables or not – it is optional.
Ingredients:
2.4 dl of chilled coconut water
1 cup of strawberries
128 grams of carrots
1 cup of mango chunks
1 peeled orange
Enjoy :)
Read more about our tips, products and Boë in general on our tan talk-page.
YOU MIGHT BE INTERESTED IN…