Why are self tanning drops a game changer?
If you are naturally pale (as the writer of this post), but loves to look tanned – how do you solve this 'issue'? Self tanning is products are really my only safe option. I have a tendency to look dull – especially during the colder months. But with self tan, I get that little glowy look – though it haven't been easy to find the right one. I've spent years trying to find that great faux-glow options for my face. It's pretty easy to hide a self-tanning mistake on your body, but a streak or splotch on your cheek can be a real bummer. That's what makes Boë's No.1 Tan Drops perfect. It's DHA-spiked drops that you mix into your moisturizer and they turn any skin or face cream into a self-tanner — such a game changer. But why I would like to steal your attention is to explain; what are self tanning drops?
What is it and what does it consist of?
The product's formula is super technical, which explains why it's so good. The formula is nontoxic, which means it doesn't contain parabens, mineral oils, chemicals, sulfates, or methylisothiazolinones that can lead to skin irritations. It also contains naturally derived ingredients such as raspberry-seed oil and vitamin E which help nourish and smooth the skin and contribute to the formula's pleasant zero smell. And speaking of scent, these drops barely have that sour, self-tanner stench we've all come to know and hate, thanks to the fact the formula is mixed at a lower pH than other self-tanners usually are. This allows Boë to minimize any nasty odours, and lets you use your favorite fragrance – if any -, without interfering.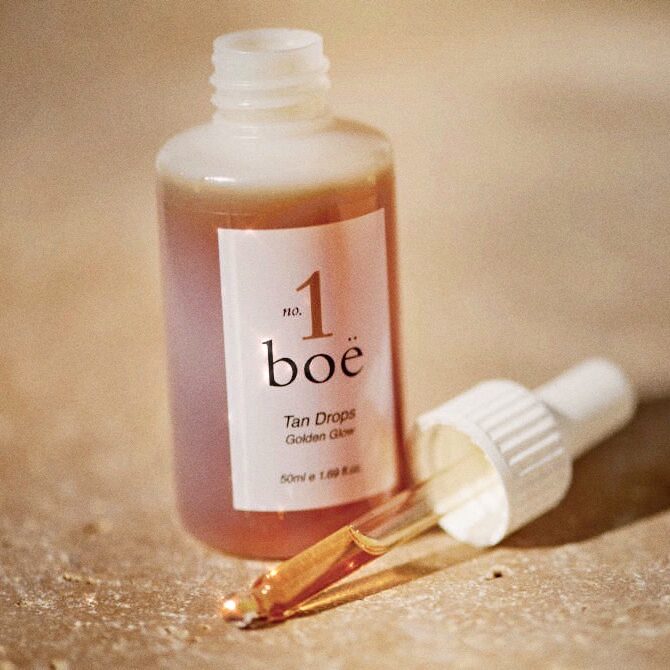 The No.1 Tan Drops – mix a few drops in your facial moisturizer or body lotion. Wait a few hours and you'll have a gorgeous golden glow.
The Boë No.1 Tan Drops
… are great if you want to build your tan gradually. But I really wanted to go for it and test; what does tanning drops do? How to use self tanning drops is easy as pie. Following the directions (which suggest between one and six drops per body part, I scooped out a quarter-size amount of moisturizer, added three drops, and proceeded to slather it over my face, décolletage and neck.
In just a few hours, my skin became a great golden-brown shade, similar to the color of a standard spray tan. And unlike other self-tanners I've used in the past, I didn't have to worry about lying motionless and not touching my face for three hours after applying it. I could apply make-up, or lay my head on the pillow, without it transferring or being removed.
How To Apply The Tanning Drops
… was even easier than I thought. Adding these drops to your moisturizer doesn't affect the cream's drying time — you can proceed as you would if you hadn't used them. And that's really all it takes — it's seriously the most effortless gradual tanner I've ever used.
The drops hydrates your skin and makes your skin look summer-fresh and luminous under natural light. But don't worry, your face won't look greasy or shimmery while you're at your desk. You'll just look like a bronzer, glowier version of your office self.
Want more tips for creating that natural summer glow? Step into our 'How To' universe for everything you need.
Read more about our tips, products and Boë in general on our tan talk-page.
YOU MIGHT BE INTERESTED IN…