If your skin tends to be a little on the dry side, but you're longing for a smooth, even and best tan for dry skin, you've come to the right place! Whether you're dreaming of a winter glow, but the cold has turned your skin into a nightmare. Or your natural skin type is a little drier than others – don't worry! We've gathered together all of our top tips for self tanning dry skin. From the prep to the upkeep – so you can get your tanning routine sorted and get the best self tan for dry skin. Below we have listed our favourite easy tanning tips for dry skin.
Dry Skin Hacks: How to Ensure Your Tan Looks its Best
Indulge in a pre-tan pamper session
The secret to any flawless tan is in the preparation. Especially, when dry skin is involved. It may sound like a lot of effort, but it's not. And it'll totally be worth it in the end!
Start off with a long soak in a nice, warm bath. Not only is this a great excuse for some relaxing me-time, it'll also soften your skin ready to be beautifully bronzed. You could even use some moisturizing bath products like a bath bomb or bath milk to make it extra hydrating for your skin (and extra relaxing for you!).
Once you've soaked for as long as you like, use a gentle exfoliator all over your body just before you get out. This will help to remove dead skin cells and create a smooth base for a flawless self tan application.
When you get out, pat dry and reach for your favourite moisturizer.
If you can, wait at least an hour before applying your self tan. This is so you give your moisturizer enough time to really get to work on your skin.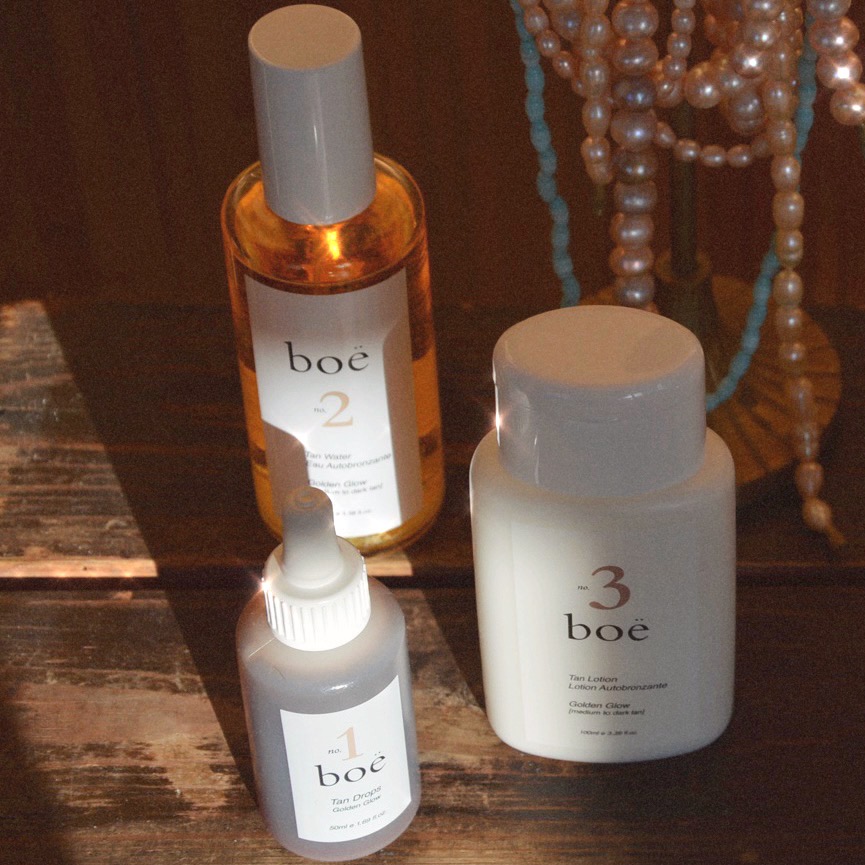 All four of our products are sensitive to your skin and will provide your with hydration and a golden glow.
It's tanning time!
When it's time to tan, we'd say the best self tan for dry skin is a lotion. This can be Boë No.3 Tan lotion or Tan Maximizer No.4, which is a rich after sun and self tan in one. Then you can combine your preferred favourite moisturizer with Boë No.1 Tan Drops and get your personal self tanner for dry skin.
These are our most hydrating products. As they are both moisturizing, and tan your skin at the same time – and they'll provide the best gradual tan for dry skin.
They are infused with skin-loving ingredients to keep your skin hydrated while you tan, for a stunning natural glow. Their moisturizing properties also make them a great self tan for sensitive skin, as they are gentle and soothing.
If a lotion isn't quite your style, you can't go past our Tan Water No.2. The No.2 combines our iconic golden glow, with skin-loving hydration, radiance and repair. The Boë self tan products will leave your skin feeling nourished and hydrated. The colorless, fragrance free formula is quick-drying, and gentle enough for sensitive skin.
Apply your tan with your hands – no matter the product – for a gentle luxurious tanning experience with an even natural tan. Buff the tan onto your skin in circular motions for a glorious, streak-free finish.
Often a source of dry and flaky skin, we can't forget about the face! Wake up with glowing hydrated skin by using a rich moisturising cream applied before you sleep as your night cream and is suitable for those with sensitive skin.
Stay bronzed for longer
To keep your tan in tip top condition, we recommend the tanning routine repeated every second or third day. While most of us don't have that much time to self indulgence – you don't have to repeat the exfoliating process every time – but it's recommendable to do from time to time, to get the most even natural tan.
Make sure you moisturise regularly. Not only will it keep your skin hydrated and soft, but it will also prolong your tan. So, you can keep looking like a sun-kissed god/dess for longer.
Get your glow on
So now you know how to get your dry skin looking it's absolute best, you'll be glowing and gorgeous all year round!
If this guide has inspired you to get your glow on, don't forget to tag us in any Instagram posts, and use #boebeaute to let us stay connected
Read more about our tips, products and Boë in general on our tan talk-page.
YOU MIGHT BE INTERESTED IN…