We are all different and so is our skin – even within the same skin type, there are different types of skin. If you have medium skin, read further :)
Normally, your skin type is regardless in terms of self tanners. Though, when you use high quality self tan that creates a natural tan, it creates some kind of difference. When you are using high quality self tanners, where it is your skin which is creating the tan and others question whether you have taken a trip to the warmer climates, used a solarium or if it is a natural, high quality self tanner. When using high quality self tanners, like Boë's, the products will activate the melanin in your body, which makes it a similar looking tan as the one you get from the sun, and not an orange layer of color on top of your skin. We say that the best self tanners for olive, medium skin – and dark, fair and light – is a self tanner that enhances your own color. This emphasizes the importance in choosing a high quality self tanner, the right application and mostly; maintenance.
If you have 'medium' skin…
then what matters is mostly, that you get an even tan from the very beginning. Therefore, we recommend, that you take a slow start to learn your applying techniques. That you learn where on your skin you have the tendency to add too much and where too little. And this can happen even if you have medium or olive skin… From there, you can gradually control it, until you reach the tanning level you feel comfortable with.
From there, it only gets easier and simpler.
Usually, it will take you a few tries to get your personal applying technique 'perfect'. But; when you have that figured out, you can, if you want to, start using more per body part as well as increase the frequency. You can increase in product plus frequency until you have reached your favourite tan level.
We will now give you our bid on the best self tanners for medium skin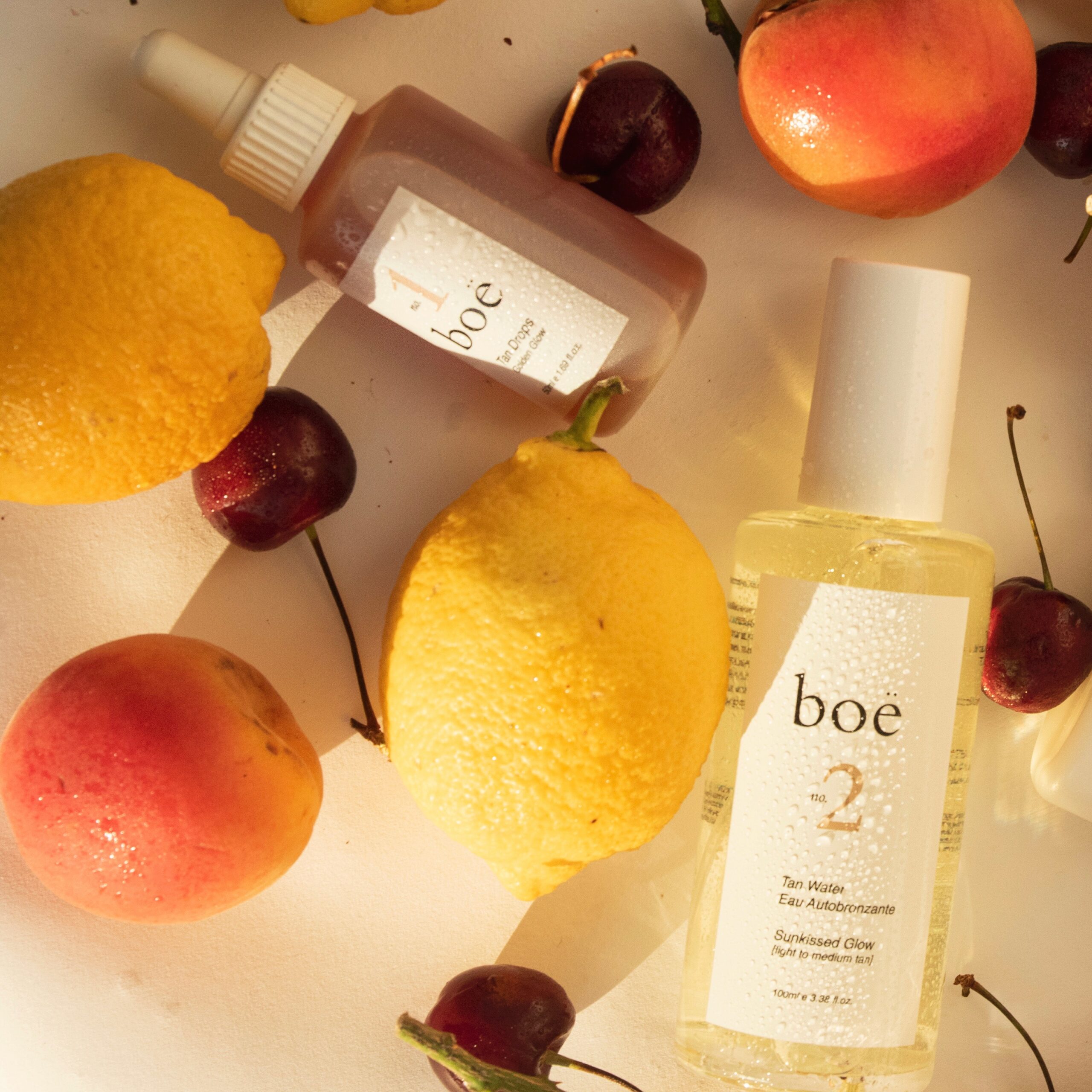 When you have a medium skin, then we will recommend a mix of Tan Drops No.1 and Tan Water No.2.

Boë Beauté
When it comes to The No.1 Tan Drops…
we recommend you to initiate with 2-4 drops per body part in the beginning. Mix the drops with your favourite moisturiser or lotion. Apply the mixture gently; like you normally would do with your moisturiser – but while being more focused on an even distribution.
If you want to start carefully, then we recommend you to start with your legs. This is to test your skin and how it is reacting, besides of getting to know your application patterns.
Wait for two days and reapply. You can consider to do the same for the rest of your body. You can also wait for a third application to go for the full body.
We recommend you to wait until you know your technique, to apply to for the entire body and face. Since you will be more secure in your application and less prone for streaks, contrasts and overuse.
The same counts for The No.2 Tan Water…
The No.2 Tan Water is a highly liquid and translucent tan water. You either spray the tan water directly onto you skin, or in your palm, and then distribute it evenly on your skin. Spray or distribute on one body part at a time for the most even results. With 'medium' skin you can push the spray button 3-6 times per body part – and we recommend to start with three times.
When you reach your desired tanning level, then the potential uneven applying will be less visible, due to the contrast being leveled out. You can choose to go after more sprays per body part if you want to. If you do so, the importance of thorough application and frequent usage, becomes increasingly important, to maintain the natural look. Boë's products are without allergens and fragrance free, and this is why it is risk free for daily usage.
If you choose to go for more sprays per body part, then we would recommend you to just go for one more spray per body part in the beginning and then gradually increase.

Just like the No.2 Tan Water, you can increase the amount of drops from The No.1 tan Drops. We advice you to take the same precautions and course of action.
We advice you to use three to six drops or spray button pushes per body part. This amount will make your skin create a natural healthy looking tan.
When it comes to the face…
Almost all of us will experience, that our face's tan will fade faster. This is due to the skin on the face having fewer melanocytes. Melanocytes are the cells in your skin that produce melanin. Melanocytes are therefore what causes the color and tan you are getting and have in your skin. Additionally, the skin in your face is thinner, it dries faster, is more exposed to the environment – heat, cold, wind, etc. – and endures more frequent washing. All of the above is normal circumstances, and this is why we recommend you to go for a daily tanning routine for your face – and using less rather than more at a time.
Sources: https://www.britannica.com/science/melanocyte
Read more about our tips, products and Boë in general on our tan talk-page.
YOU MIGHT BE INTERESTED IN…