We want to present you the three dont's for how not to apply self tan.
The color you are getting when applying Boë to your skin is not an orange layer. The color is your own melanin which is activated by our products. How to apply self tan correctly is key in order to get a beautiful and natural-looking, even glow and tan. Especially when you're dealing with quality products like Boë. To get the most natural look when using self tan and to get the best start and experience with Boë. We give you the three don'ts for how "not" to apply self tan.
Avoid the starter mistakes, and enjoy the most stressfree way of tanning with Boë.
The Three Don'ts:
1. Don't; apply when your body or face is still wet or heated
– or will be right after. Tan Tip number 1 on applying self tanner must be this. If doing it while you are heated or wet, the product will not stick correctly to your body and therefore not bind with the melanin. This will result in your tan getting uneven and weak – and maybe even transfer onto sheets or clothes.
2. Don't; apply a lot on Friday and wait 7 days to reapply
– with Boë we cherish and favor a consistent glow and tan, and gradual tanning. We think that the best way to apply self tanner is with gradual tanning. We want you to learn how the product is working with you, by rather applying less than more, until you know the product. So, we will always advice you to apply a bit every or every other day, to gain a natural build up and consistent color, instead of being tanned on Friday and Saturday and pale again on Tuesday or Wednesday.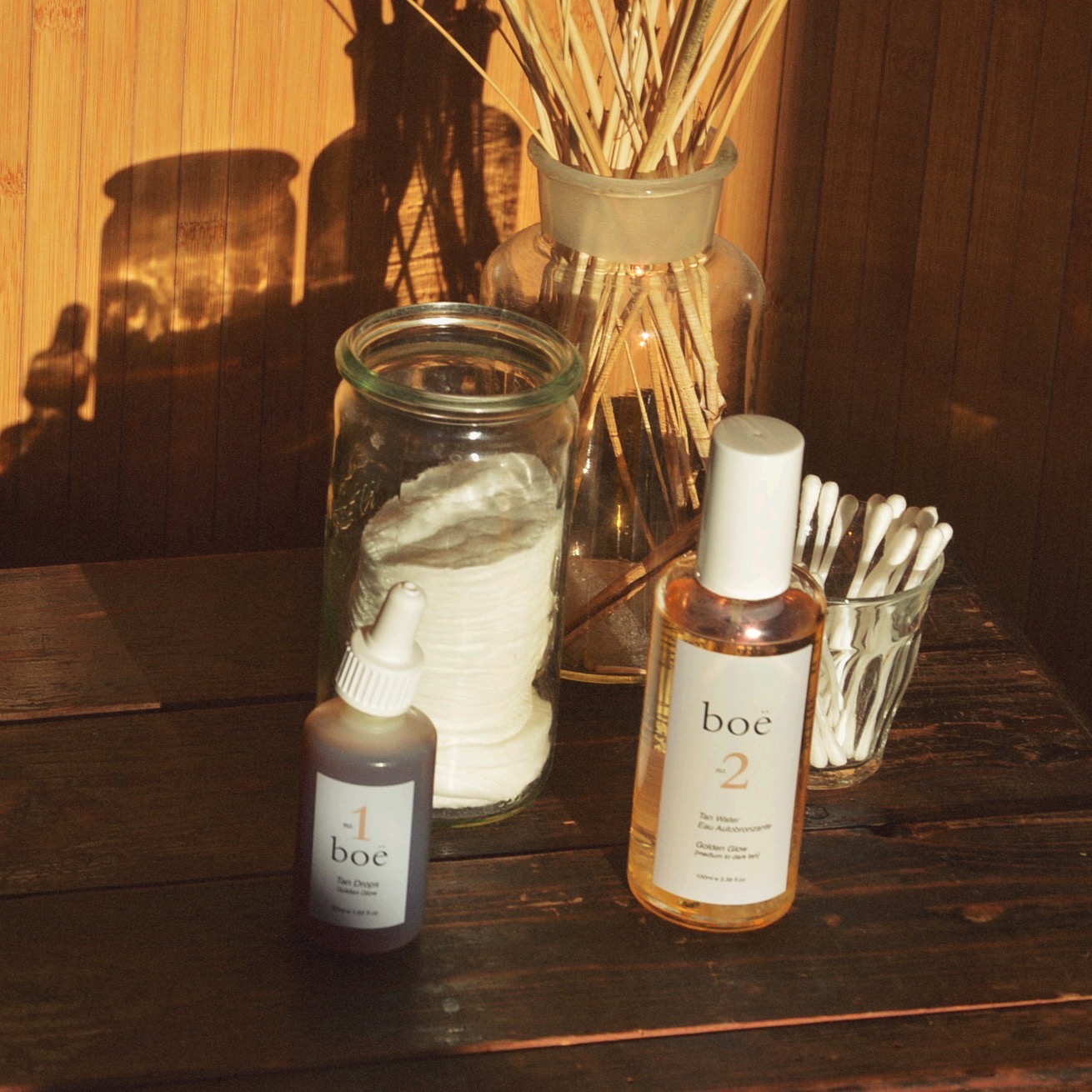 "Boë Beauté is my favorite go-to tan! I have the Starter Set II and I use The No.1 Tan Drops everyday with my moisturiser to maintain my glow, and I spray on a few pumps of The No.2 Tan Water for special occasions. It is easy and fits perfectly into my daily routine!"
3. Don't; apply too much
– we want you to have a natural and fresh looking tan, like you just returned from sitting and enjoying the sun in the park, at a café or been outside all day. Many asks the question of how to use self tanners – and we think use less at a time. If you apply too much at once, you can either become unlucky and it might overproduce and you will risk getting a bit orange, or it simply does not look natural and luxe. Rather less, being in control and have a tan that matches the season.
So here you have, what we would consider as the most crucial three don'ts and what to avoid when aiming after a perfected naturally tanned look.
Read more about our tips, products and Boë in general on our tan talk-page.
YOU MIGHT BE INTERESTED IN…