A big part of the success of how to apply self tanner to hands is in the preparation and the application. It's basically the same advice that counts for how to self tan hands and feet. By ensuring that you do the correct application and preparation, you will achieve a perfectly bronzed tan, and keep your skin hydrated and protected. I'll in short give you some advice about how to tan your hands with self tanner.
Exfoliate
Making sure you properly exfoliate before applying a self tanning product is so important. Part of your hands tend to hold on to more dead skin than the rest of your body. This is mainly because we often forget to give them the same love and care as the other parts of our body. Besides of using and rubbing on the hands when sanitizing, washing, exposing them to the cold, and in general using them. Use exfoliating gloves or a brush to scrub off any dead or old skin found on your hands to keep them soft. This will ensure that your self tanning product will cover evenly.
Moisturize
Properly moisturized skin will be much more receptive to a self-tanning lotion than dry, flaky skin. Even if the self-tanning product you choose is a good moisturizer, you still need to give your skin the head start with a light, hydrating cream. On your hands you might need a thicker moisturizer than you use for the rest of your body – but that is totally individually. Note that dry skin sucks up more self tan, so any areas that are drier than the rest of your body will turn out darker.
Blend well
In some cases, and it also depends on how you like to tan your hands, it can for some be better to blend the self-tanning cream down from your shoulders and onto your hands, rather than applying it directly onto your hands. This prevents you from applying too much product to your hands.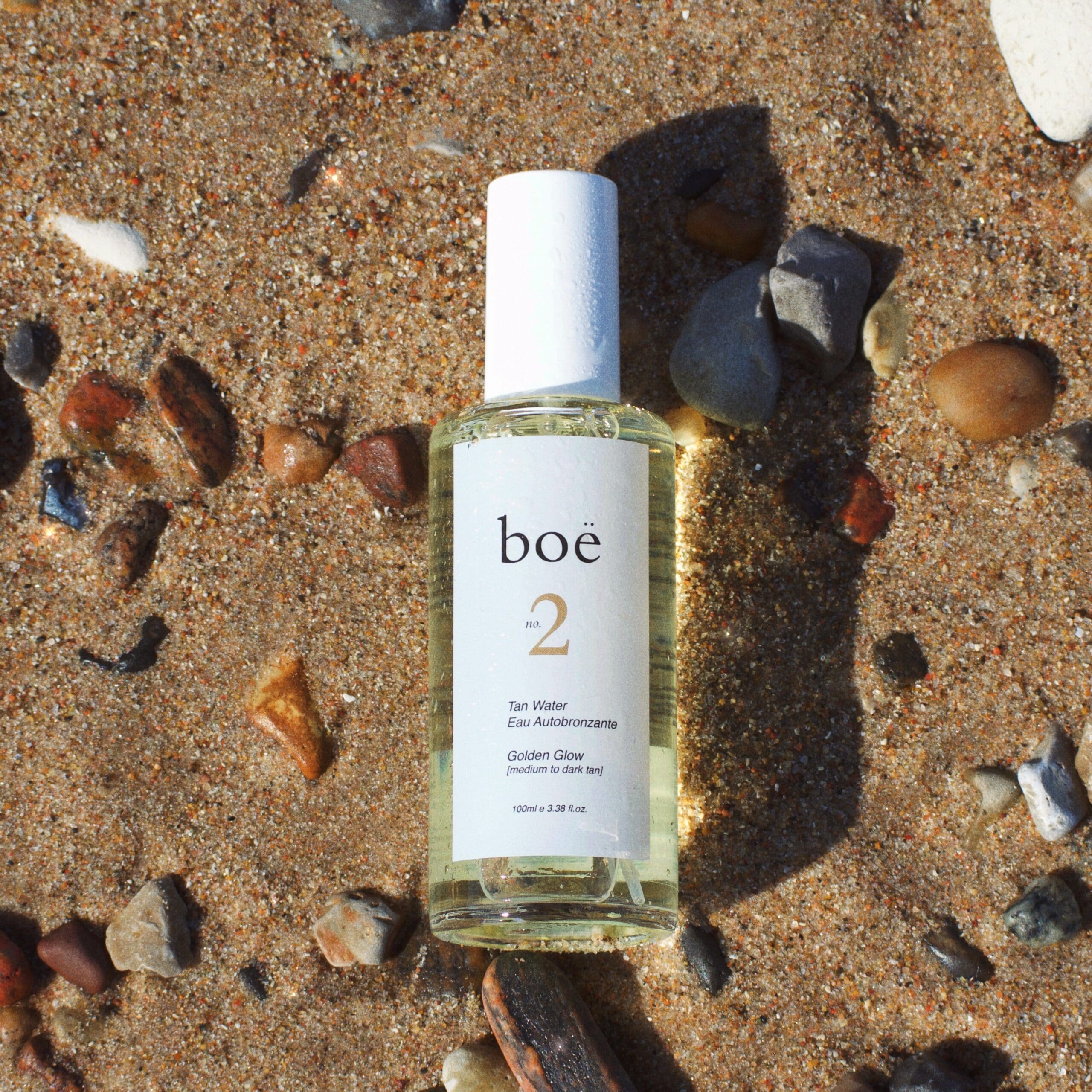 The No. 2 Tan Water is one of our most popular products – loved and used by many! Once you get familiar and used to it, it's hard to live without it
Cover all the spots
How to put self tanner on hands can be difficult. It can be difficult to draw the line not adding too much and not making tan lines. We propose that you just gently glide the product to your fingers, without applying too much. The product won't naturally reach down between your fingers.
A pro tip to using the No.2 Tan Water, is to spray directly onto the back of your hand, and then use a used make-up brush to distribute it even and naturally. Another trick how to self tan your hands – is – to use a used make-up brush without the Tan Water No.2 – and then distribute the applied self tan evenly.
Scrub off old tan
From time to time, you will have to scrub off all traces of the old tan before starting. But we guess you know ;) The combination exfoliate, moisturise, start from above, and then potentially supplement with a light spray-push form Tan Water No.2, finishing off the routine using a used make-up brush. This will give you delicious naturally tanned hands – more beautiful, than what you have seen on models for years ;)
– And once it becomes a routine – it will be easy and done in seconds!
Perfectly Bronzed Hands
Your hands deserve to look just as summer-kissed as the rest of your body. Unfortunately we often forget about them. Give them the love they deserve and bronze them to perfection with a great Boë self-tanner. I hope our 'How To Self Tan: Hands' will help and reward you with the most beautiful self tanned hands!
Read more about our tips, products and Boë in general on our tan talk-page.
YOU MIGHT BE INTERESTED IN…