Boë is a family company. Founded on the basis of wishing to give the family members in the founding family, healthy, allergy free self tanners safe for their skin to use. Some of the members in the founding family are multi-chemical sensitive (MCS) and suffers from having sensitive skin. For them it has been somewhat impossible to find healthy and usable alternatives to self tanners – which also gave a natural look. Therefore, the founder wanted to give them a possibility to get a natural tan, the most healthy way. Thus was Boë founded – a brand built upon high quality allergy free, non toxic self tanners.
And like many of us the family members of the Boë-family likes to have a naturally healthy and freshly sun kissed look. One which is with ease and without having to stress about the sun.
More And More People Are Becoming Allergic to Fragrances And Demand Self Tanners Safe For Their Skin…
after being exposed to various fragrances, scents, perfumes, etc.. More and more are due to exposure through many years, becoming intollerant, more sensitive and starts to develop allergic reactions. The aforementioned allergic reactions i.e., shows in headaches, dizziness, lacking concentration, rashes, etc. We think that the increasing intolerance is an incentive and significant part of the reason to try to keep your kids away from fragrances in detergents, shape, hair conditioner, etc. for as long as possible. By doing this, your children can build up a form of resistance to the constant exposure of fragrances in our surroundings, for as long as possible. To try to make their defence system as strong as possible for the sake of their later stages in life.
Allergic, MCS and sensitive skin reactions does not only come from 'manufactured' or industrial produced stuff. It might as well be from natural 'earth made' things like flowers, bushes, tea-leaves, etc. This has for many years prevented the MCS-members of the Boë-family from using any kind of self tanner containing fragrances; either naturally or industrially produced.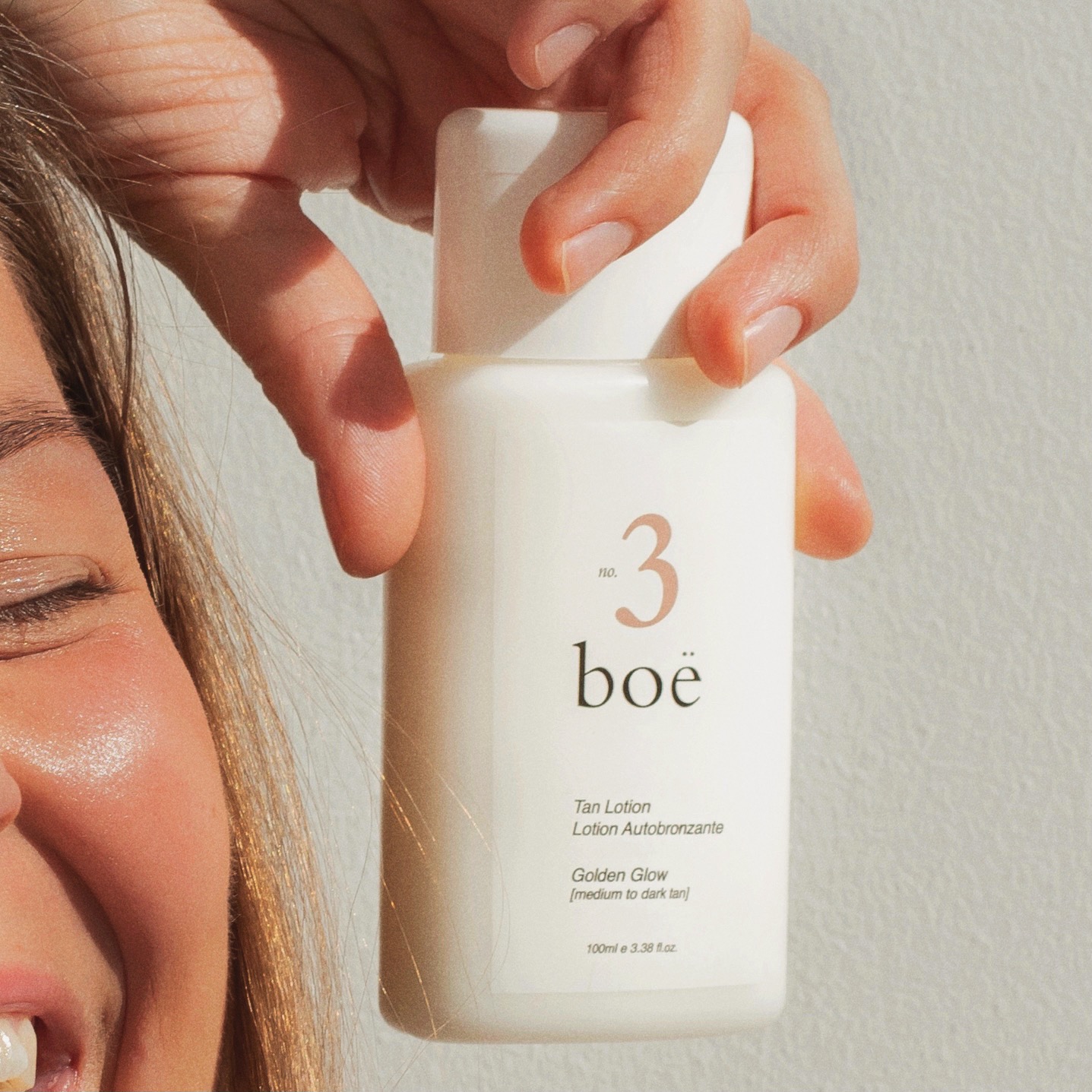 The MCS-Sufferers of The Family Requested…
an easy to use, fragrance free self tan product. One they could use to enjoy the summer, without having to stress about getting tan directly from the sun. One where they could, during the fall, stretch out the summer feeling and prolong their tan. And, in the winter, feel fresh, healthy and glowy. While still looking natural.
Their requests and responses to other self tans raised curiosity. The members of the family had always been critical towards cosmetic products and their promises, coming from a family of six generations of doctors. This means they never had been overly exposed for i.e., fragrances, and always have used products as clean and simple made as possible.
The aforementioned is the reason why Boë Beauté was created.
An easy to use, fragrance free self tan product
with a natural tan for a fast paced lifestyle

Boë Beauté
The Creation of Boë Beauté Was, And Is…
to give the opportunity to have an all-year natural, healthy glow. Fragrance free and as easy and healthy as possible. Boë are therefore products that respects your choice of favourite fragrance and gives you the pleasure of wearing your chosen one. Our products does not drown your favourite scent and create another fragrance battle.
If you like to keep it natural and stay completely fragrance free, then Boë gives you the pleasure of a natural healthy tan – odour free. Boë are, besides that, hypoallergenic self tanners, which means they are free of allergens – and has been tested for years among people who are heavily allergy affected.
Boë fragrance free self tanners safe for your skin brings several advantages to your every day.
– It is easy and time saving; due to the no-transfer and fast drying formulas – you just tan and go.
– Your skin is more even, you use less make-up and look fresh, healthy, golden, happy – and in the winter, you will not get the 'pale, sad, winter-looking skin' – neither the feeling nor the look.
As Tina Turner once sang: "Simply the Best"
– fragrance free and hypoallergenic self tanner.
Read more about our tips, products and Boë in general on our tan talk-page.
YOU MIGHT BE INTERESTED IN…